Dumpster Rental Sizes and Tips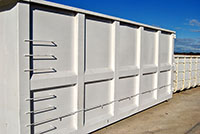 Temporary dumpster rentals are available for residential and business purposes. Large dumpsters, also called roll offs, provide a way to dispose of large amounts of trash all at once. Offered in numerous sizes, these large trash containers can meet the needs of any customer who is looking for a way to get rid of debris from a renovation, roofing materials from a tear off, or even old household goods. Equipment Rental Direct provides a wide array of information on dumpster sizes and uses so you can choose the rental that best suits your needs.
Dumpster Rental Sizes
| Dumpster Size | Dimensions | Weight Limit* | Common Uses |
| --- | --- | --- | --- |
| 10 yd | 12' L x 8' W x 4' H | 2 tons | Eviction cleanouts, small interior remodeling jobs |
| 20 yd | 22' L x 8' W x 5' H | 4 tons | Estate cleanouts, medium construction projects |
| 30 yd | 22' L x 8' W x 6' H | 5 tons | Larger interior projects, small roof tear-offs |
| 40 yd | 22' L x 8' W x 8' H | 6 tons | New construction, large roofing projects |
Dumpsters come in multiple sizes. From 10 yard bins to 40 yard containers, temporary dumpster rental services have all of your debris removal requirements covered. Choose the proper dumpster size for your needs based on the amount and weight of the materials you are throwing away. The chart below will help you find the right dumpster for your residential or commercial needs.
*Weight limitations may vary by provider
Keep in mind that heavier objects, even if they are not large in dimension, may require a larger dumpster to avoid going over the designated weight limits. Other items might take up more room, but will give you plenty of allowance on weight. Shingles from a 3,000 square foot roof weigh in at around 6,000 pounds Drywall without finish removed from 4 standard size rooms weighs in at around 5,300 pounds Furniture from an average size room has a lot of bulk, but may weigh as little as 1,500 pounds
Temporary Dumpster Rentals
A temporary dumpster is one that is used for several days to several weeks and has a specific purpose (home cleanout, residential or commercial construction project, etc.). Temporary dumpster rentals are nearly always between 10 and 40 yards.
Dumpster Rental Costs
The fee for dumpster usage, delivery, pickup and dumping is paid at the time of the rental; alternatively, the balance may be due within a specific number of days following pickup if the quoted charge is based on the actual weight of the debris. If the dumpster is determined to be overweight at the time of dumping, additional charges may be billed to the customer. Temporary dumpsters are reasonably priced and rates can be negotiated for frequent renters or multiple pickups that occur at the same site.
Dumpster Pickup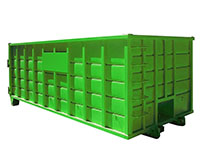 When renting a temporary dumpster, the customer is given a date for pickup--most commonly in the 5-7 day range. This time frame is negotiable during the off-season. Negotiations for extra time should be discussed at the time of the reservation. If the project is complete and the dumpster rental is full prior to the scheduled pickup day, the customer can contact the provider to request an earlier pickup, if desired.
When a Dumpster Fills Up Before the Job is Complete
Sometimes one dumpster is not enough. In that case, a contractor can call the provider for another container. The first dumpster will be picked up and another left in its place. The costs will usually be discounted for the second dumpster, particularly for frequent customers.
Dumpster Rentals for Contractors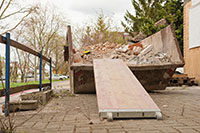 Contractors often rent dumpsters for new construction, additions, and remodeling work. Roll-off dumpsters are the rental of choice for most contractors. The dumpsters can be delivered directly to the job site and then removed when the project is finished. Alternatively, in cases where businesses or homeowners prefer not to have a dumpster sitting on their property, a contractor might choose to have the dumpster placed at the site of his or her shop. In this case, workers will haul debris from the jobsite to the dumpster at the end of each day.
Residential Dumpster Rentals
Temporary dumpsters are often used residentially when the debris from interior renovations, basement or garage clean outs, or exterior construction projects is expected to be excessive.
A temporary dumpster might also be used for residential purposes when:
Cleaning out a family member's estate
Re-landscaping a yard
Tearing down a shed or other outbuilding
Changing carpet or furniture in multiple rooms
Installing new cabinets
Tearing out an existing sidewalk
Removing an above ground pool
Temporary Dumpster Rentals for Businesses
Most business use temporary dumpsters as a way to dispose of old office furniture and other unwanted goods when redecorating. Businesses also use temporary dumpsters to get rid of debris when moving from one office to another or during renovations. These are items that may not be allowed in a regular commercial trash route pickup.
Items You Should/Should Not Put in a Dumpster
There are many items you cannot put in a dumpster, but there is also an extensive list of items that are allowed. You can fill a dumpster with:
Carpet
Old clothing
Furniture
Tree stumps
Old shingles
Household goods and decor
Drywall scraps
Concrete
Bricks
Siding
Metal scraps
Other construction debris (nails, insulation, packaging materials)
You should not put the following in a dumpster:
Recyclable items (in certain areas)
Paint
Refrigerators or other appliances that contain Freon
Oil
Hazardous or explosive materials
Car batteries
Tires
Flammable items
Anything containing asbestos
Whether you are looking for a dumpster to dispose of the debris from your upcoming DIY kitchen remodel or you are a general contractor that needs a dumpster for the huge project scheduled for next month, Equipment Rental Direct can help. We find the best dumpster rental rates from professional, reputable companies in your area and pass the information onto you. Renting a dumpster is quick and easy with Equipment Rental Direct.
States